Platrum's purpose and history
Platrum's goal is to rid businesses around the world of the mess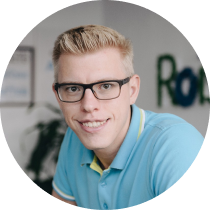 My goal in life is to rid the business of the mess all over the world. Every day we are faced with the results of hundreds of businesses, and our day depends on how they work. And I really do not like to deal with poor service, missed deadlines, broken promises, I think you too. I understand that most of the problems in business are related to the management model and processes within the company. Somewhere you did not control the knowledge of the employee and now you do not have a complete set of orders, somewhere there is no quality control and therefore they do not call you back on request, and somewhere the employees do not know who to contact and therefore you are faced with complete chaos and sit in queue. And these problems are not as difficult to solve as they seem, and I want to help you deal with them.
When people from other companies saw this tool, they asked for an opportunity to use it. And soon we made the tool public and began to actively develop it, since it really solved the problems not only of our business, but also of others.
In addition to Platrum, I am also the founder of the end-to-end analytics service Roistat.com. The company was founded in 2014 and now has several hundred employees. And every day we do our best to provide services of the highest quality, and so that customers do not have a reason to be upset. To this end, we regularly improve our management skills. And since we are fans of automation, we are constantly introducing various services to help. We have tried dozens of task managers, various storage systems for regulations, files, passwords, etc. And on the one hand, they solved some of the problems, but on the other, they created new ones. It was necessary to issue accounts when hiring new employees, and pick them up when they were fired. Ensure that when changing positions, a person has only the necessary services, and in them - exactly the rights that he is entitled to. And for some managerial tasks, the required solution did not exist at all.
В 2018 году я глубоко погрузился в изучение структуры компании, и ее конечно же нужно было где-то фиксировать. Для начала я использовал excel, потом сервис для рисования диаграмм и постоянно мучился от нехватки возможностей. Поэтому со временем мы сделали конструктор структуры компании, который решал крайне важную для нас проблему. В Roistat этот инструмент моментально прижился: все сотрудники всегда имели доступ к актуальной информации понимали, кто и за что отвечает. Какие сотрудники есть в компании и к кому можно обратиться за помощью. Мы описали продукт для каждой выполняемой функции, и людям стало понятней, что от них ожидает компания. Это в свою очередь привело к росту показателей и улучшению результатов. Чуть позже мы расширили этот инструмент метриками. Они очень хорошо работают в связке со структурой компании, когда за каждой должностью можно закрепить ключевые метрики.
Так как Roistat активно растёт, то мы постоянно сталкиваемся с обучением сотрудников, созданием инструкций и хранением базы знаний. Мы перепробовали множество сервисов и постоянно сталкивались с проблемой разграничения доступов, актуальности и дублирования документов и создания дальнейшего обучения по ним. Чтобы решить эти проблемы, мы сделали модуль базы знаний, который привязан к структуре компании. Одна из главных особенностей нашей базы знаний — это глубокая интеграция с модулем обучения. Теперь не нужно создавать отдельно учебные материалы, к каждому документу можно добавить вопросы. Ведь вы пишете документ, чтобы кто-то его прочитал, а значит после этого он должен подтвердить полученные знания, пройдя тесты. При этом мы сделали множество интересных механизмов регулярных проверок знаний и информирования всех заинтересованных в изменении документа. И конечно же отчеты о том, кто и какие документы читает.
Для того, чтобы компания долго существовала очень важно контролировать денежные потоки. Но часто управление финансами оторвано от менеджмента. Бухгалтер и финансовый директор, в лучшем, случае все ведут в 1С, которая чаще всего не удобна для топ-менеджмента, а в худшем — все ведётся в excel файлах, и чтобы построить базовые отчеты, люди сидят месяцами в поисках ошибок. Для этого в Roistat, во внутренней ERP, у нас был модуль финансов, который помогал решать эти проблемы, но мы начали выходить на международный рынок и у нас появились транзакции в евро и долларах. Наша внутренняя система не поддерживала мультивалютность и вместо того, чтобы исправить эту ошибку только для себя, мы решили сразу открыть этот модуль для всех и сделали мультивалютные финансы в Platrum. Он очень простой в использовании, но при этом закрывает потребности в учете финансов даже для компаний с миллиардными выручками. Я не знаю инструмента, где так же просто можно построить PnL и Cashflow отчет, который будет понятен не только финансисту. А когда информацией удобно пользоваться – управленческие решения принимаются быстро и своевременно.
Considering the company's assets, there is a similar problem. There are either very complex cumbersome systems, or simple services, but in which it is impossible, for example, to take into account depreciation. And this is very important for understanding what is happening - how much property is in the company now and who is responsible for it. At Platrum, of course, we did it. All property can be assigned to an employee. He can check at any time what is assigned to him, and the system does not allow "firing" until the equipment is transferred to someone else. So simple, but for some reason this is not the case in other services.
А пароли вашей компании где хранятся? Чаще всего в гугл эксельках и, конечно же, вы не контролируете кому эти файлы доступны. И вряд ли вы вспоминаете поменять пароли, после того, как попрощались с тем, кто имел доступ к этому файлу. А ведь из-за этого многие теряют базу клиентов, доступы к сайтам, а некоторые лишаются и бизнеса. Наш инструмент хранения паролей помогает избавиться от этих проблем: он напомнит вам, когда пароль нужно менять и кто к нему имел доступ.
И продолжать я могу бесконечно, так как в первую очередь я менеджер в своей компании, и я сталкивался с огромным количеством проблем. Я заплатил огромную цену за этот опыт. Я хочу, чтобы в вашем бизнесе не было бардака, я не хочу чтобы вы и ваши сотрудники страдали. Поэтому мы делаем такой инструмент, который будет помогать управлять вашей компанией и сбережет много нервов. Мы дорабатываем его каждый день и у нас ещё очень много планов. Мы хотим сделать из Platrum инструмент, который будет снимать большинство менеджерской рутины, чтобы у вас освобождалось время для творчества и действительно полезных дел.
I wholeheartedly recommend that you figure out Platrum and implement it in your company.
Let's get rid of the mess!